Mid-1980s
Government identifies supercomputing as an important resource.
1986
Technical team set up to study feasibility of starting supercomputing centre.
1987
National Computer Board proposes government-funded facility to provide shared computing resources.
1988
Advanced Computation Centre (ACC) is set up with initial S$40m investment.
13 Jan 1988
NEC SX-1A supercomputer is installed at ACC.
1993
NUS buys minicomputers for modelling underwater mine explosions.
1993
National Supercomputing Research Centre (NSRC) is formed with ACC's supercomputers.
1995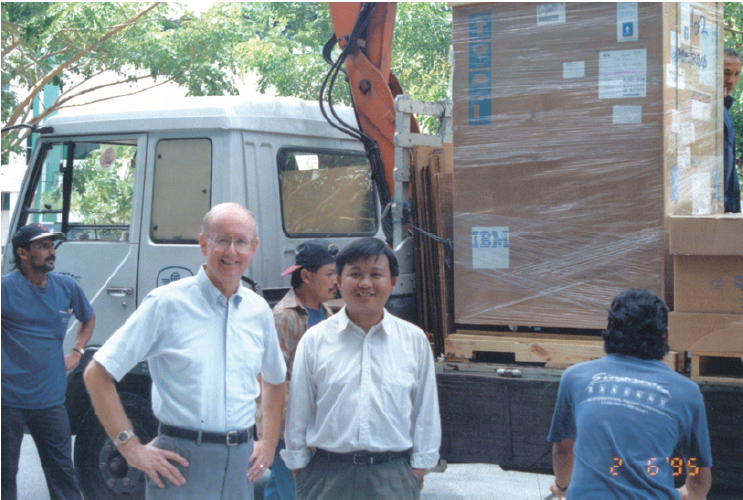 Singapore acquires two IBM supercomputers with the more powerful SP2 machine going to NSRC to support R&D projects.
1996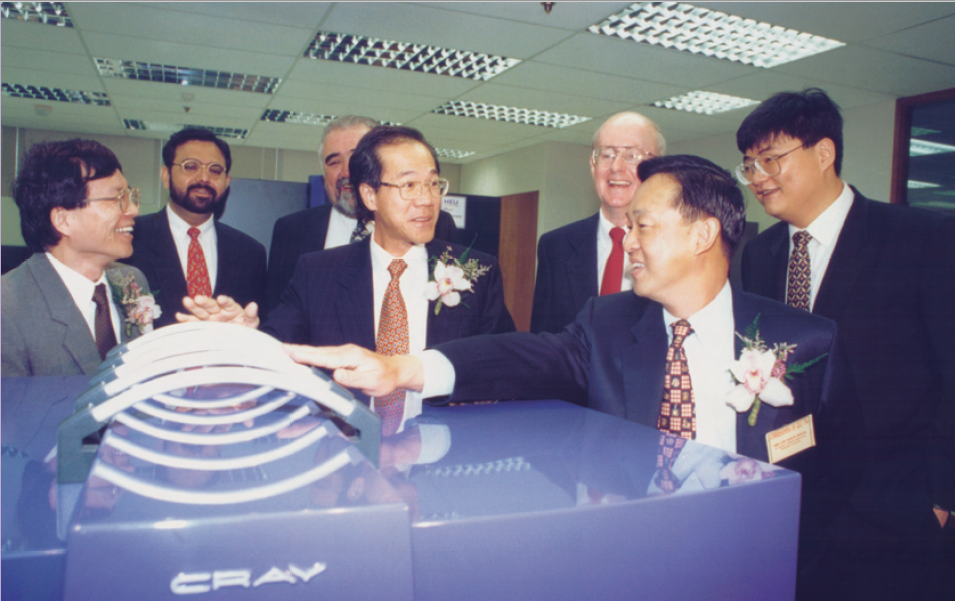 Singapore's most powerful supercomputer, the Cray Research T94, arrives at NSRC.
1 Apr 1998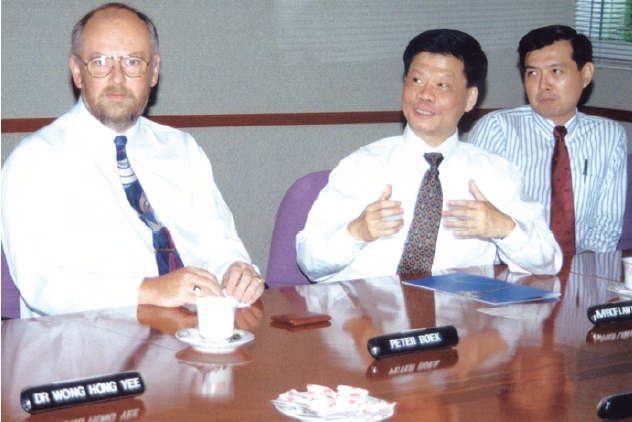 NSRC and the Centre for Computational Mechanics, NUS merged to form the Institute of High Performance Computing (IHPC).
Early 2000s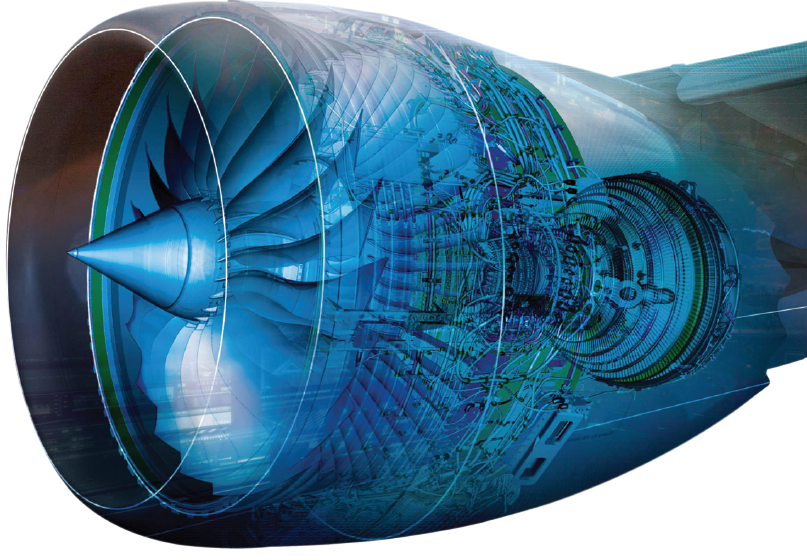 IHPC helps Rolls Royce in Singapore identify the right supercomputing architecture to invest in.
Apr 2003
National Grid Office set up to coordinate the formation of national grid computing infrastructure to support growing demand for computing resources.
2006
Seiko Instruments sets up Singapore R&D facility with IHPC to focus on fuel cell development.
2006
IHPC and Hewlett Packard collaborated to offer computing capabilities in a shared-services delivery model.
2006
A Scientific Advisory Board is set up to benchmark IHPC's activities and guide its work.
2007
A*STAR Computational Resource Centre (A*CRC) inherits 10 HPC clusters totaling 10 TFlops.
2008
IHPC moves to Fusionopolis at One North and sets up a new simulation chamber.
2008
IHPC signs three-year research programme with the Maritime and Port Authority on the use of computational science and engineering in the maritime industry.
2012
Lloyd's Register sets up Group Technology Centre in collaboration with IHPC.
2014
A*CRC's 100Gbps InfiniCortex (IC) is demonstrated at Supercomputing 2014 (SC14) in New Orleans, which later wins Ministry of Trade and Industry Gold Award.
2015
National Supercomputing Centre (NSCC) Singapore, the nation's first national petascale facility, is established with the support of A*STAR, NUS, NTU and SUTD as founding stakeholders.
2015
Supercomputing Frontiers conference is organised and forms the precursor of the SupercomputingAsia (SCA) conference series.
2015
NTU student team wins annual Student Cluster Competition at Supercomputing 2015 (SC15) conference in Denver.
2016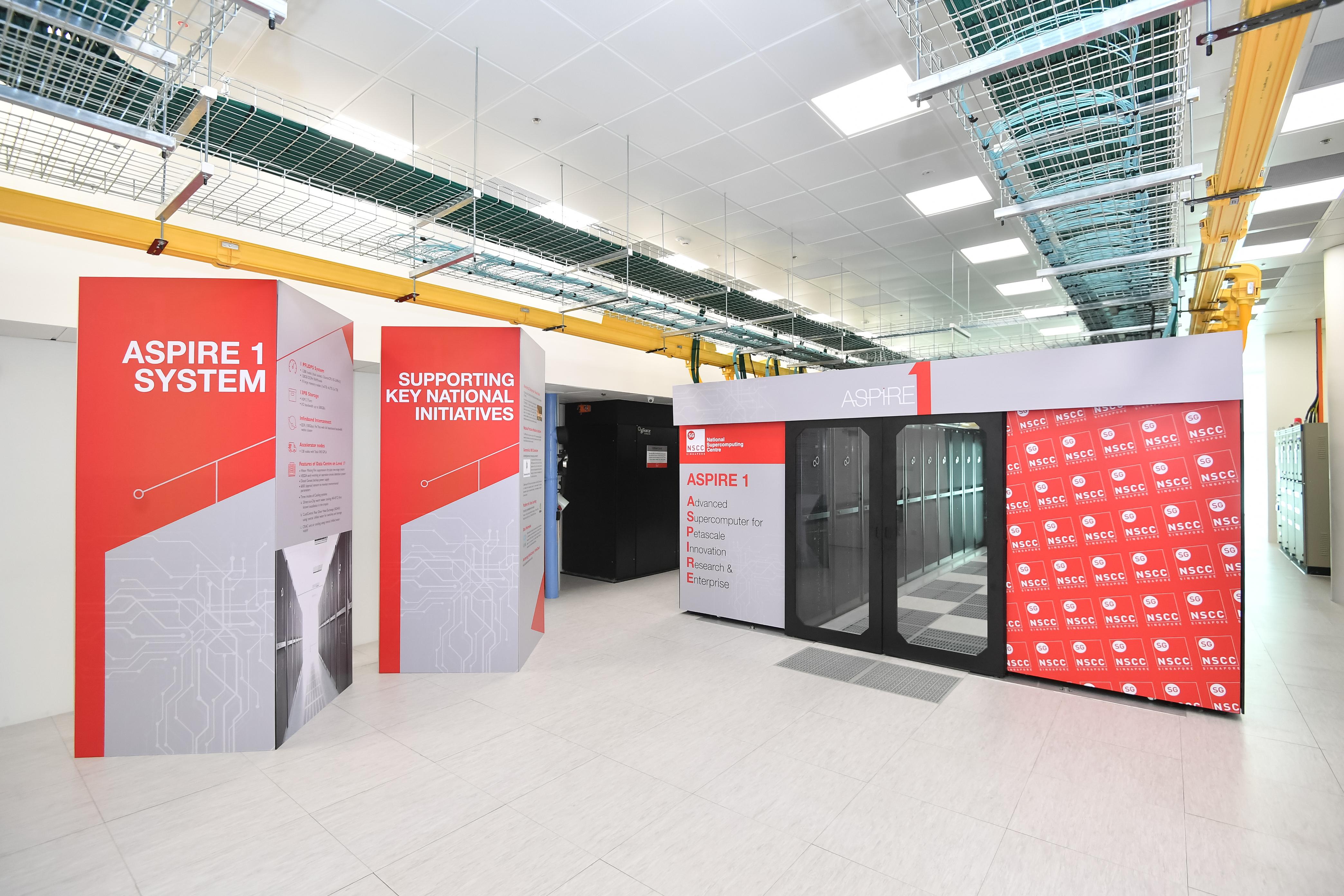 Singapore's 1PFlops supercomputer, ASPIRE 1, comes online as the region's most powerful supercomputer. ASPIRE 1 was ranked No. 115 in the world in the TOP500 supercomputer list in November 2016.
24 Oct 2017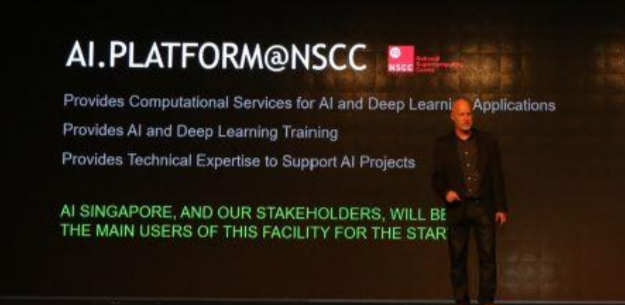 New AI.Platform@NSCC set up by NSCC and NVIDIA to bolster AI capabilities for academic, research and industry stakeholders and in support of AI Singapore (AISG).
26 Mar 2018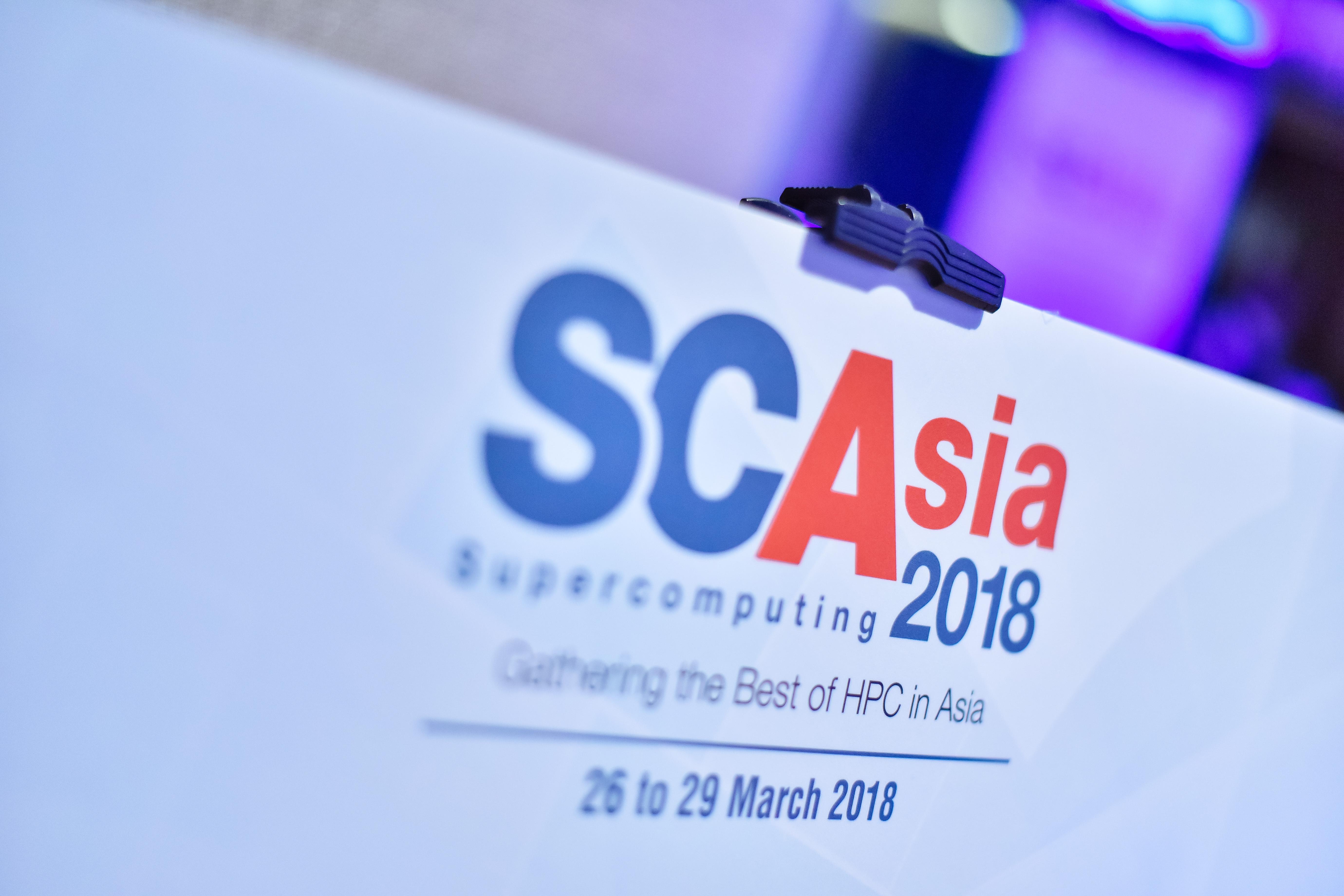 The inaugural SupercomputingAsia 2018 (SCA18) conference is held for the first time. The event is an umbrella of notable supercomputing and allied events in Asia with the objective of promoting a vibrant and shared Asian, and global, HPC ecosystem.
Apr 2018
Six NVIDIA DGX-1 servers of the new AI.Platform@NSCC – suited to large, batch AI workloads – are integrated with the ASPIRE 1 supercomputer system. The platform facilitates HPC capability development and AI-Deep Learning, and is an enabler for the Singapore AI community.
12 Mar 2019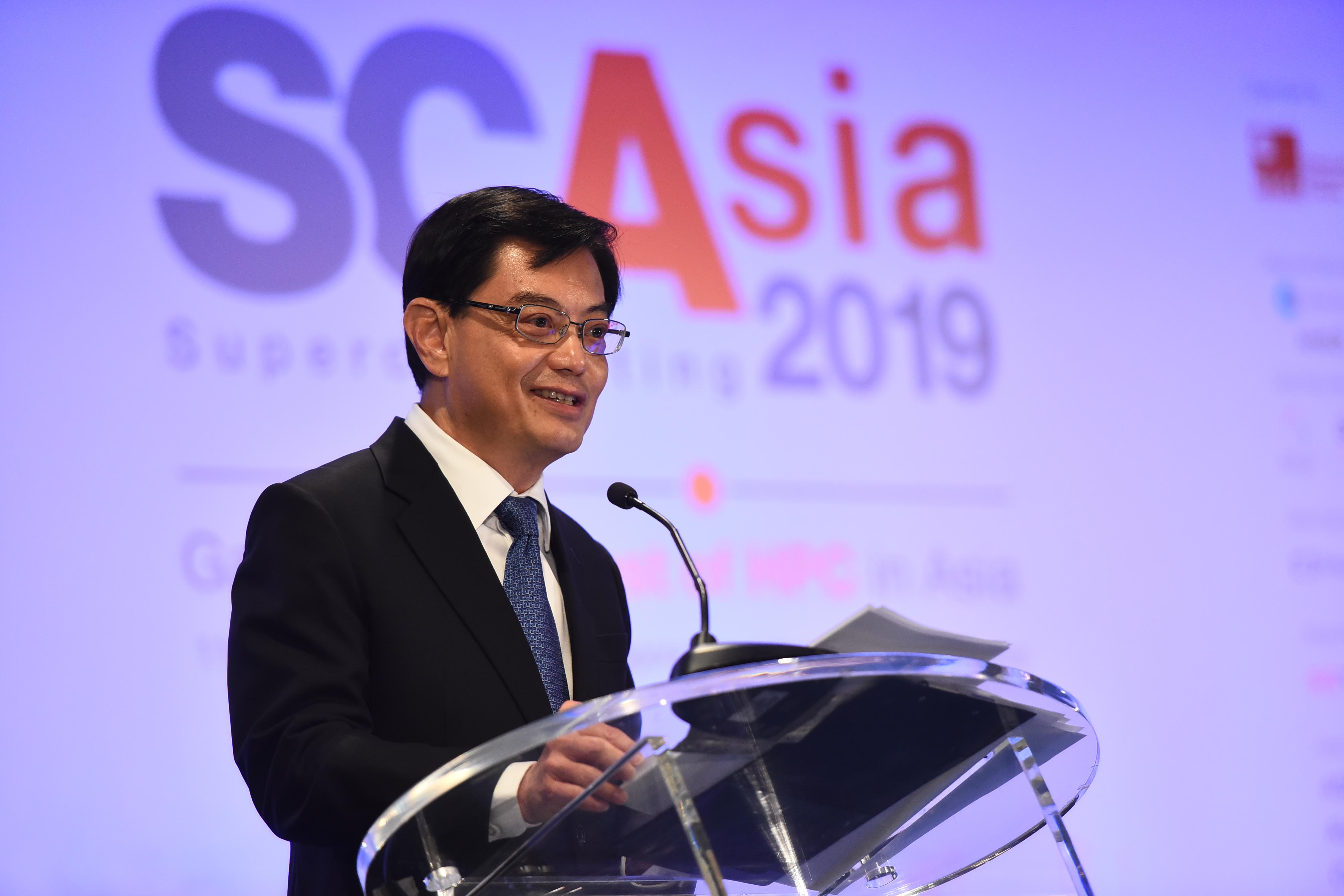 Finance Minister Heng Swee Keat, who is also chairman of the National Research Foundation (NRF), announced the funding of S$200 million to upgrade the nation's supercomputing capability. The announcement was made during the opening of the SupercomputingAsia 2019 (SCA19) event.
1 Oct 2019
NSCC receives the Letter of Award from A*STAR which taps on the earlier announced NRF funding to initiate NSCC 2.0. The five-year grant allows the expansion of HPC resources aimed at boosting the capabilities and supercomputing access to all institutes of higher learning (IHLs) and research institutes.
14 Oct 2019

TCOMS, Singapore's next-generation Deepwater Ocean Basin national research facility, becomes a new NSCC stakeholder. TCOMS will leverage supercomputers to support the development of a simulation system featuring the integration of basin modelling, numerical modelling, smart-sensing and real-time data analytics.
3 Jan 2020

NEA becomes a new NSCC stakeholder. The agency will leverage supercomputing resources to accelerate the research work carried out by NEA's Centre for Climate Research Singapore (CCRS) in areas such as climate change and modelling of weather.
May 2020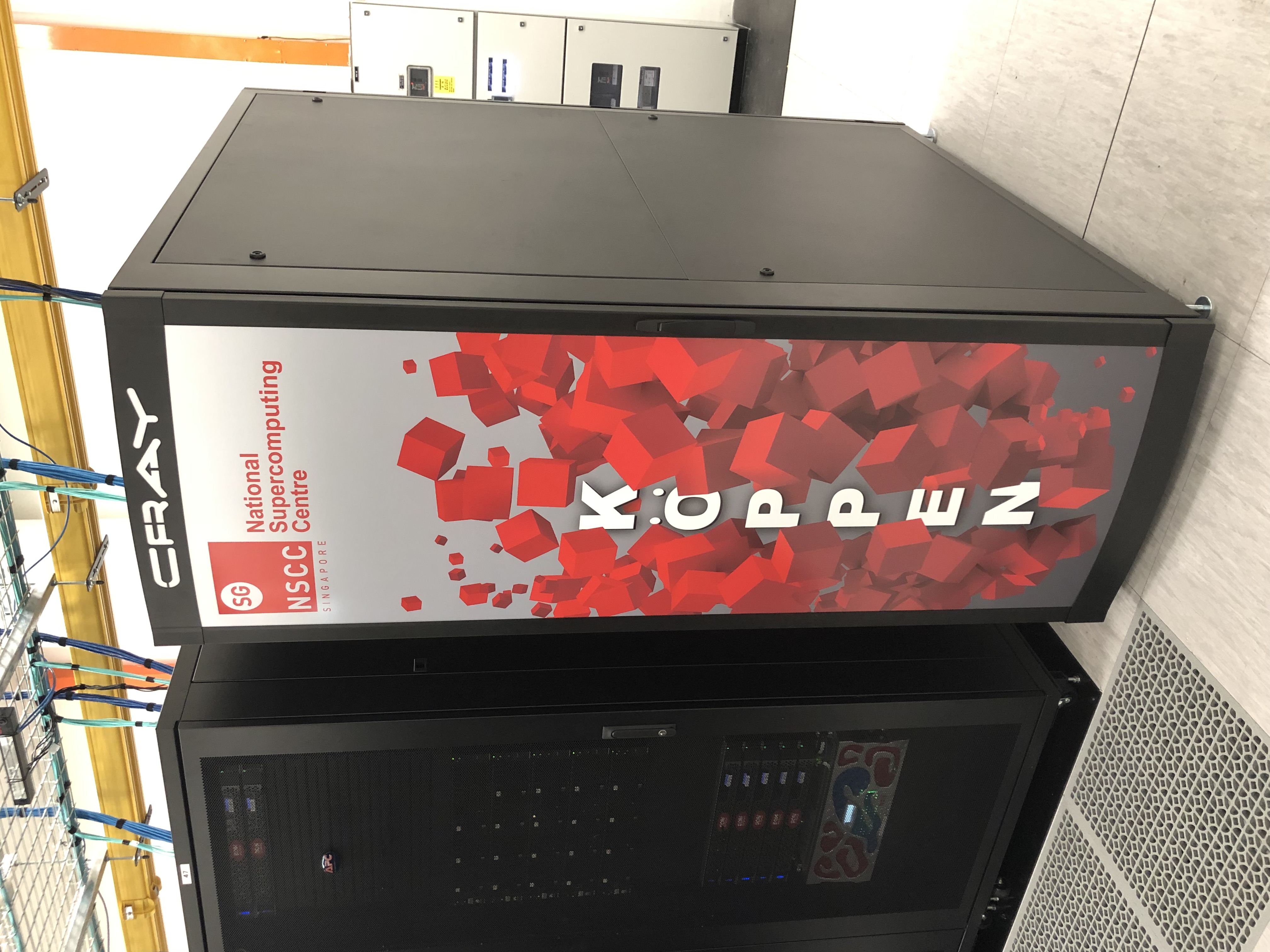 NSCC's Köppen system, with a performance of over 160 TFLOPS, storage capacity of over 1.2 PB and 52 compute nodes, is commissioned. The system supports the research needs of the climate research community.