ASPIRE2A's core computing capabilities deliver a level of performance and flexibility needed to support a multifaceted array of HPC applications. The computational components are balanced with high speed storage subsystems and a low latency high speed interconnect that ensures to deliver the highest levels of performance across a broad spectrum of applications.
ASPIRE2A is an AMD-Based Cray EX supercomputer with 25 PB of GPFS FS and 10 PB of Lustre FS storage and Slingshot interconnect. The following diagram shows the high-level specification of ASPIRE2A.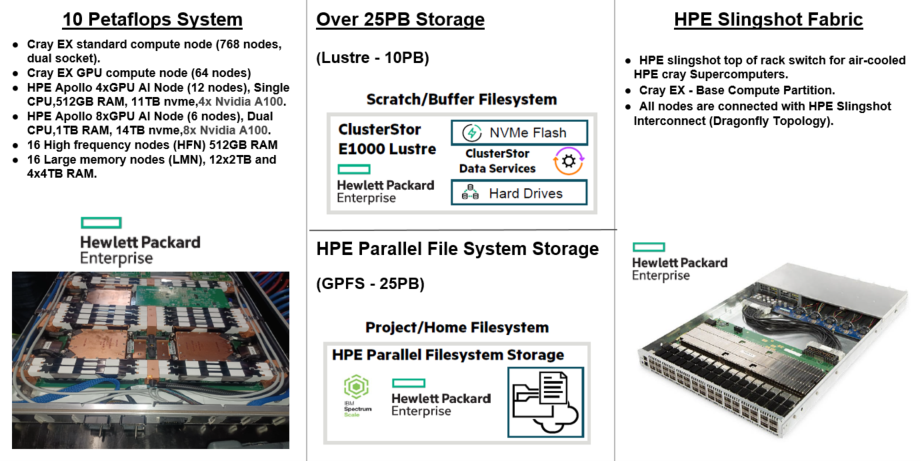 The NSCC HPC system comprises of the following:
ASPIRE2A
HPE Cray EX 2x AMD EPYC Millan 7713 providing total compute capacity of up to 10 PFlops, 512 GB memory and 128 cores per node.
GPU compute capability with 4 x NVIDIA A100-40G SXM per node.
Please click here for more info
AI System
Total 18 AI GPU nodes

12 nodes with 4x Nvidia A100 40GB and 12 TB nvme local storage.
6 nodes with 8x Nvidia A100 40GB and 14TB nvme local storage.
Access to the AI systems is via ASPIRE2A "ai" queue.
High Frequency
16 DL385 High Frequency Nodes.

Dual-CPU AMD 75F3 (32 cores/CPU + 32 cores/CPU = 64 cores in a node).
100G High speed network.
512GB DDR4 ECC RAM (User accessible RAM = 500 GB).
Red Hat Enterprise Linux-8
High Speed Network Interconnect (HPE Slingshot)
All nodes are connected with HPE Slingshot Interconnect (Dragonfly Topology).
HPE Slingshot provides a modern, high-performance interconnect for HPC and AI clusters that delivers high-bandwidth and low-latency for HPC, ML, and analytics applications.
Other Features
Remote extended network connections to the A*STAR, NUS, NTU, SUTD and NEA sites.
Parallel file system (Lustre & PFSS)
Liquid cooled high-density Cray EX cabinets.
Air cooled racks (specialized AI, Large memory, storage, login nodes)
Altair Workload Manager
Technical Specifications click here
Interested to find out more about ASPIRE 2A? Get in touch with us at [email protected].